News
Published on July 7th, 2015 📆 | 3187 Views ⚑
0
Hacking Team, government spyware provider hacked, more than 400GB data leaked
Spyware provider to governments and authorities, Hacking Team hacked by unknown hackers
Sometimes the hunter becomes the hunted in the online world. Hacking Team, a company that helps police and government hack citizens, has been hacked itself. The company was hacked by unknown hackers who also took over its Twitter account and leaked corporate data via torrents.
[adsense size='1']
In a series of tweets from the company's compromised Twitter account, the unknown hackers tweeted internal emails and also released torrent with 400GB of internal files, software source code and sensitive files such as a list of customers and the money they paid for the spying software.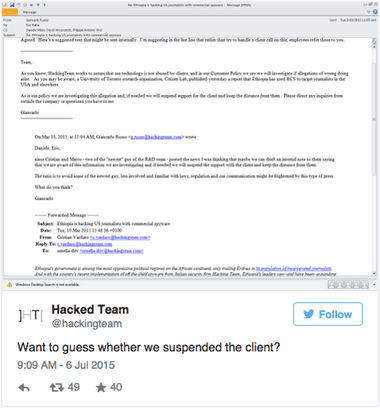 One particular tweet make an email from Hacking Team CEO David Vincenzetti public. In the email, Vincenzetti mocks a competitor for being hacked. Little did he know, his company would one day be under the same situation.
Hacking Team is based in Milan, Italy, and it is known to develop and sell spy software for different computer platforms, both mobile and desktop, capable of evading detection of antivirus products to governments and law enforcement authorities.
[adsense size='1']
In 2014, a variant of Hacking Team's Remote Control System (RCS) went undetected by popular antivirus products like Kaspersky, Avira, G DATA and ESET.
It has more than 40 employees and United States Drug Enforcement Agency is known to one of its clients along with police in Morocco, Ethiopia, and the United Arab Emirates.